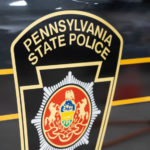 A police officer in Brackenridge, PA was shot and killed and another officer was wounded on Monday. The suspect was shot and killed by police later in the night.
Allegheny County Police Superintendent Christopher Kearns said that police encountered a wanted suspect on Monday night, identified as 28-year-old Aaron Lamont Swan, and engaged in a foot chase that lasted several hours. Swan was originally wanted for an alleged weapons violation of his probation, and police had encountered him Sunday night, but he was able to evade them following a chase.
There were two shooting incidents several blocks apart: one officer was shot and killed in the first incident, identified as Brackenridge police chief Justin McIntir Another officer was then shot in the leg in the second incident; the officer was transported to a hospital and is in stable condition, Kearns said. Pennsylvania Attorney General Josh Shapiro tweeted: "Police Chief Justin McIntire ran towards danger to keep Pennsylvanians safe — and he made the ultimate sacrifice in service to community."
The suspect was then shot and killed in another shootout with police a little before 7 p.m. local time in the Homewood neighborhood of Pittsburgh. The people to whom the carjacked vehicle belonged were not harmed.
Editorial credit: George Sheldon / Shutterstock.com