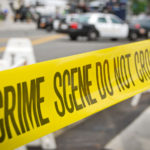 Authorities confirm that a woman and a teenage girl were killed Monday morning in a shooting inside a St. Louis high school, adding that the gunman was also killed in the shooting, and six others were taken to hospitals with injuries.  The gunman was about 20 years old and hasn't been positively identified.
St. Louis Police Commissioner Michael Sack said at a news conference that the injuries ranged from gunshot wounds to shrapnel wounds:  "This is a heartbreaking day for all of us. It's going to be tough. While on paper we might have nine victims … we have hundreds of others. Everyone who survived here is going to take home trauma, even the officers who responded here and the firefighters and the paramedics who worked on people here are going to experience some degree of trauma."
The shooting just after 9 a.m. at Central Visual and Performing Arts High School forced students to barricade doors and huddle in classroom corners, jump from windows and run out of the building to seek safety. St. Louis Public Schools said on Twitter that the shooter was "quickly stopped" by police and Superintendent Kelvin Adams said seven security guards were in the school at the time, each at an entry point of the locked building. One of the guards noticed the man was trying to get in at a locked door, but couldn't. The guard notified school officials and ensured that police were contacted.
Central Visual and Performing Arts High School is a magnet school specializing in visual art, musical art and performing art. The district website says the school's "educational program is designed to cre­ate a nurturing environment where students receive a quality academic and artistic education that prepares them to compete successfully at the post-secondary level or perform competently in the world of work."
Editorial credit: EVA CARRE / Shutterstock.com