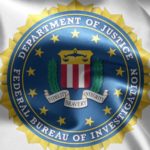 U.S. Attorney General Merrick Garland announced Monday the arrest and indictment of Chinese nationals accused of stealing confidential information and harassing Chinese victims living in the United States to return to China.
Garland said, "Over the past week, the Justice Department has taken several actions to disrupt criminal activity by individuals working on behalf of the government of the People's Republic of China.  The defendants believed they had recruited the U.S. employee as an asset, but in fact, the individual they recruited was a double agent working on behalf of the FBI. As the complaint alleges, the defendants paid a bribe to the double agent to obtain non-public information, including files from the U.S. Attorney's Office in the Eastern District."
Garland said that the Chinese spies had sought confidential information on witnesses, trial evidence and potential new charges to be brought against the company, "The double agent provided the defendants with documents that appeared to present some of the information they sought. In fact, the documents were prepared by the U.S. government for this investigation and did not reveal actual meetings, communications or strategies. This was an egregious attempt by PRC intelligence officers to shield a PRC-based company from accountability and to undermine the integrity of our judicial system."
An indictment also was unsealed Monday in New Jersey charging four individuals including three Chinese intelligence officers with conspiring to act in the United States as illegal agents on behalf of a foreign government. Separately, the Justice Department charged seven people in New York for working on behalf of China "in a multi-year campaign of threats and harassment" to force a U.S. resident to return to China. Two of those defendants were arrested last Thursday.
Editorial credit: ruskpp / Shutterstock.com